SAVEKEY Electric Room Thermostat is programmable thermostat combined time switch and room thermostat that allows you to set different target temperatures, helping you be as flexible as possible on your Heating, ventilation and cooling control. It allows you to program various comfort levels throughout the day.
Its luminescent LCD screen can indicate indoor temperature, the digits stand for room temperature and user's setting temperature, wind speed and time. With legend, language indication, luminescent LCD screen and LED blue luminescent button indicator, it is convenient to operate clearly in any environment, even it is dark. Increases comfort, you can set different temperatures for the morning, day time, evening and over night.
SAVEKEY thermostat monitors the temperature of the air within one room and turns the heating on and off in order to maintain the temperature you've set. The ideal temperature to set your room thermostat is between 18ºc to 32ºc. 26°c is recommended if you are sitting still for long periods of time. Its intelligent circuit control has 3 steps of wind speed control, there are 3 optional modes which is cooling mode, heating mode and automatic mode can be set by infrared remote. SAVEKEY thermostat can replace traditional mechanical air conditioning temperature controller and it can effectively save more than 30% energy.
Illustration of TS-AC20T series
The design of blue luminescence touch screen is very modern and it is also convenient to be identified at night.
With the design of touch button backlight indication, it is easy to find its switch control,wind speed setting, and temperature regulation function button.
With the design of 24h clock and time control,it can achieve the function of timing and advanced time setting.
EEPROM can permanently keep parameters set by the user during power cut.
Various valves (SR&NSR) can be controlled.
It can save effectively more than 30% energy.
TS-AC20T intelligent Electric Room Thermostat is suitable for installation in standard Bs4662 switch base box.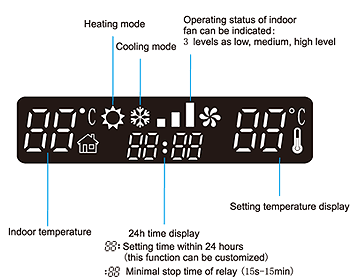 TS-AC20T Remote explanation
NOTE: When the touch screen is pressed, the corresponding indicator will be lighted.
The touch screen and LCD screen will automatically enter dim backlight mode if no operation in 15 seconds. The system control and setting can be achieved completely via the remote controller. Some special functions have to be achieved only by the remote control.